Frequent posting + Weekend Fun
Doa2
Entertainment
Media
Weekend Fun
XBox 360
I think I tackled this in the past, but here is a brief reminder, yet again. I am against bloging senseless! I really don't enjoy blogs that post 10+ times each day, that's just ridiculous! Yes, there may be a lot to blog about, and there is a lot going on in the world all the time. But, putting this many posts ends up only hurting your readers, in my humble opinion. It becomes impossible to read every post, and since there is no way to know which posts may be important to you without reading them all, people just stop trying!
So, philosophy of this blog is to weed out the essence from the noise, and bring you just things of interest. Plus, don't forget the hourly updating Latest Shared Links section on the right. That's where I bring you latest deals, news of interest, and other fun things. That section is updated frequently, but don't worry if you don't keep up.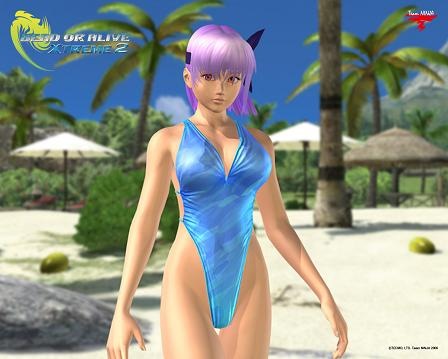 Now, onto the promised Weekend Fun. This weekend I bring you the amazing advances in Computer Graphics Technology, using 3D shaders rendering, bump-mapping, and other such hard to pronounce methods that lead to the amazing creation on the right. If you are not a fan of that sort of stuff, please don't click on any of the links below, you've been warned!
Now, if you are still reading, I presume you enjoy this skillful art and technology coming together, like me. So, here are some video clips from the excellent Dead or Alive: Xtreme 2 game. It's just a compilation of mini-games, but Who Cares! when the graphics is this good!!! And you probably would want to visit the game developer site, just make sure to click on the English magazine laying towards the bottom of the screen, that's how insiders get in.
Still reading this? Ok then! Check out this Promotional Trailer and then Game Opening Movie. Done? Did I mention that this game plays via HDMI on your 42″ or larger HDTV screen!!! So, go on and buy the game, with XBox 360 if you still don't have it!
PS: I was trying to stay family friendly blog by avoiding words like Sexy, Blonde and Girl, but the traffic spike from the search engines seeking just these words is something I can really use right now 😉
PPS: For some reason there is one new Amazon favorite item (on the right column) which isn't showing image, but be sure to click through and find out what it is! 😀
Comments #
Comment by oOgerryOo on 2007-12-16 11:25:32 -0500 #
Hello,
I'm oOgerryOo.
Just saying hey – I'm new.
Comment by werutzb on 2008-10-07 22:21:16 -0500 #
Hi!
I want to make better my SQL experience.
I red that many SQL books and want to
read more about SQL for my work as oracle database manager.
What can you recommend?
Thanks,
Werutz
Comment by Adi R on 2008-10-09 14:20:58 -0500 #
This is very old post, strange that anyone would comment here now, especially something unrelated to the post.
Anyhow, to answer, search Google and Wikipedia, there are plenty of online guides to SQL.
Also search local book store, plenty of books on databases and SQL.
Of course both databases and SQL are quickly becoming irrelevant in the new world
Comment by wewescocheBug on 2009-01-07 07:27:56 -0500 #
What is bumburbia?
Comment by layermelf on 2009-01-21 23:23:58 -0500 #
Nothing seems to be easier than seeing someone whom you can help but not helping.
I suggest we start giving it a try. Give love to the ones that need it.
God will appreciate it.
Comment by Fliseekeypele on 2009-02-15 04:02:55 -0500 #
Hello.
I'm new there
Nice forum!