PodCasts – Coming soon to a Zune near you
Entertainment
Technology
Zune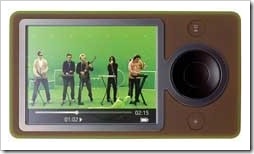 Yes, there is a Zune near you! And if you had your own Wi-Fi enabled Zune, you would see that other Zune and be able to share media wirelessly.
As you may have guessed, I picked up a Zune a week or so ago. This first week been pretty good experience overall, and so far the only thing I can complain about is the lack of Podcast support.
But WAIT!!! Microsoft says newly Redesigned (rewritten from ground up, as I hear) software for Zune device and for the PC that syncs with it, is coming mid November! Actually, I knew this and thus picked up the older model on sale, which should also be fully compatible with the new software.
So, I have been promising a Podcasts primer, and it is notably missing from my list of upcoming subjects, but not because it's forgotten! Not at all! I simply decided to wait until this major update to Zune software, which I understand anyone can download and use, even without Zune.
For now, I am using PodNova web site + their client software to manage and auto-download my Podcasts. Now, I setup the Zune PC software to monitor PodNova download directory, and it syncs any new MP3 Podcasts to my Zune without any troubles. Deleting them from the device, after listening, that's the real trick. But, everything is bound to change with this upcoming revamp, which is also rumored to be able to download recorded TV directly to Zune from your home Media Center PC, without the silly $1.99 or whatever iTunes charges!
Meanwhile, I recommend you take advantage of this closeout on v1 of Zunes, which is still going on at Buy.com  — Just tell yourself that Brown is the new Black!
PS: Though I ordered a brown one, Woot ran out and were nice enough to replace with Black ones for free! Excellent customer service, I am not complaining! 🙂
Comments #
Comment by Anjuan on 2007-11-03 01:57:45 -0500 #
It is so interesting how Microsoft can uncannily find a way to come from behind. It's looking like Zune 2.0 will bring it close to parity with the iPod and Revision 3 may actually pull ahead.