Netflix Netflix everywhere – Bring It On!
HDTV
Netflix
Tivo
XBox 360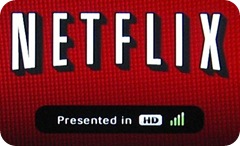 With more and more TV shows being available via Netflix "Watch It Now" feature, including the grand hit Heros, which we still plan to catch up on (never started), momentum is building for easy on-demand streaming of shows/movies, to your Living Room TV.
With that in mind, I finally set a plan in motion to upgrade my media center PC, which is connected to the our big-screen. It was deemed not powerful enough (Athlon XP 1800+ or something, not even X2…) to process full screen H.264 media, which most media is nowadays.
One of key usage scenarios was obviously to wath NetFlix on-demand via this media PC.
So, as soon as I purchase everything, and not even before I finish setting things up, NetFlix goes commando with the following news:
Well, I did try full screen Hulu, and it really looks nice, but mostly for their very limited library of 720p content. Installed Vuze on it also, and putting up TVTonic next.
Speaking of the upgrade, I ended up snatching a great deal, instead of upgrading my motherboard/cpu/memory, etc, as I was planning. It would have cost around $350, since I needed extra Vista Permium license for this setup, and that alone is $100. So I was happy when SlickDeals put up a coupon on refurbished Dell Outlet deals last week. Snatched up Dell Inspirion 530 with Core 2 Quad and 4GB of RAM for around that much, and added my own ATSC (HD) Capture Card with nVidia 8400 GS for full screen HD monster. It easily runs at 1080p now, including all media I tried to play full screen thus far. Plus, box itself is Beautiful, in white and slick metal front panel, plus runs practically silent. I am a happy camper!
Now, if only NetFlix would put out a Vista Media center plug-in, for easy and fast navigation of queues and instant playback, in HD, that would be awesome… But I guess they are too busy developing all those custom interfaces, instead of attacking the obvious, easy target…