Napster is back with a vengeance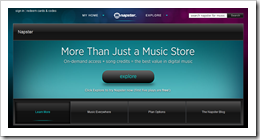 I recently signed up for Napster, and so far it's a pleasant experience. The price proposition convinced me – unlimited music streaming to your computer AND you can purchase Un-protected (DRM Free) songs for keeps. When you buy 3 months at a time, it comes out to $5 per months which gives you 5 songs and Unlimited streaming of their huge library, whole month.
Actually, what initially convinced me was their recent partnership with Coca Cola's MyCokeRewards site, redeeming some free single-song downloads. It takes quiet a lot of points, but we had them laying around anyways… Today I noticed they added not just song downloads, but also Subscription plans! I didn't do the math, but I think 3 months subscription is best value. It gives you 15 song downloads (for keeps) and 3 months of unlimited streaming of any kind of music out there.
Sadly, they don't let you stream to phones. In fact, they go extra mile to block any streaming from mobile devices, since essentially it should be possible as your mobile smartphone is on the same Internet as everyone.
Anyhow, until Spotify gets here, only sensible option I found is GrooveShark. Their $3 (or less) per month plan lets you stream unlimited music to their iPhone app, but of course many people will be satisfied with free Pandora or Last.fm radio Apps for iPhone.
Enjoy!
Comments #
Comment by Jennifer Wilbur on 2010-08-16 11:13:17 -0500 #
Glad to hear you're enjoying Napster, Adi. And thank you for reviewing the service. We will have iPhone and other smartphone support soon.
-Jen (Napster Public Relations)