Dude, we bought a Dell
Consumerism
Dell
Laptop
Technology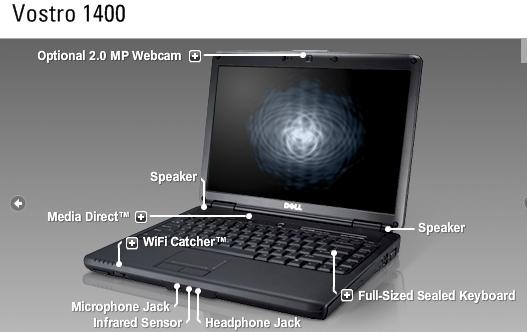 As many of you know, after months of planning and research I bought my wife a lovely birthday gift. It's a top notch Vista Laptop, from Dell's Vostro Small Business Line. Naturally, I am typing this mini-review on it right now.
We have been using our Vostro 1400 since the beginning of September, which, albeit not much, is still more than some other people reviewing things out there (yes, Amazon Kindle reviewers, I am looking at you!!).
I must say I had high expectations for this laptop, mostly since CPU and motherboard technology has come such a long way lately. This year Intel finally got their act together and introduced low power / high speed CPU line, which is a real necessity for having a decent mobile machine.
I am not into lengthy reviews, and I think my readers aren't either, so here's the summary of what I think are most critical points:
Cool looks, but most importantly runs Cool also! The thing does not heat up! Unless you are doing some intense gaming, the fan doesn't run, or runs at very low speed. I can finally keep it comfortably on my lap without getting burned!

Integrated 2 Megapixel webcam, microphone, WiFi, and other small touches are great and really add to overall appeal (click on picture above for details).

The 14" model that we got is pretty light; without extended battery it is only 5.3 pounds, not ultra lightweight, but reasonable indeed.

Long battery life, advertised at 7 hours with extended battery, though we haven't had a chance to test it in the field yet.

Power cable connector "snaps-out" if it's pulled (or tripped over) accidentally. Now quite Apple's magnetic connector, but still nice of Dell to finally put some engineering thought into the "little things".

Comes with free Integrated 10 GB Online backup. Dell is keeping it free for this year, and they told me they don't know if it will change next year, or if they will ever charge for it.

The laptop itself is inexpensive! Yes, that is a feature, for me at least!
I got it with Vista, naturally, and I think that's the only way to go. Looks like they heard my plea and added Vista Home Premium option also. Too bad we already got ours, but still Kudos to Dell for listening to their customers!
If you are buying, make sure to opt-in for Vista Home Premium or higher. Make sure to add Integrated Web-Cam with Microphone. Also, we got ours with 2GB of RAM, and don't you even think about going lower, though it's pretty much standard these days anyhow.
That's all for my mini-review. Overall it's a great machine, no problems to report thus far. Runs everything you can throw at it, including games in high-resolution, just make sure to add nVidia 8400 or higher, if you plan on gaming with it a lot.
Comments #
Comment by Boris on 2007-11-25 14:03:43 -0500 #
What about more cool features? Like may be SD/MS/XD integrated card reader? And screen… Did you take the regular glossy one or the Vibrant/Crystal/TrueImage view?
Don't know how exactly Dell named that technology, but I'm sure you know what I mean…
Yeah, and… Does your wife use her birthday present, or it became another laptop of yours? 😉
Comment by Adi R on 2007-11-25 14:20:44 -0500 #
Yes, has integrated SD/XD and similar card reader. It's on the front, so nicely placed also. Headphones output is also on the front, very nice!
The screen is TrueImage (or Vibrant, whatever) on ours, but it's $0 option either way on Vostro line.
She uses it, but rarely. I was hopying it'd be her primary machine, dockable on her table, but she still against it, so only uses it while in front of TV mostly.