Free Latest eBooks and Audiobooks on your Mobile device – Legal Too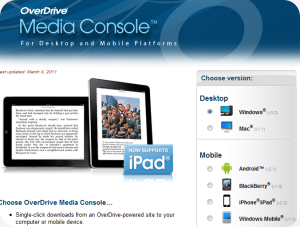 Forgive the loud title of this post, but I promise that it is totally relevant! For the past few weeks I have tremendously enjoyed several audio-books from my local library. Our local Gwinnett county library had Digital Downloads for a long time via OverDrive Media Console. However, the big breakthrough is my discovering that they are offering iPhone App!
Actually, the Media Console client software is also for Android, Blackberry and it even works on iPad 2 ! This is most likely US only (sorry International friends), and probably not all local libraries offer it, though I hear very high percentage do.
Pretty simple to use – just look up your county's library and login via your mobile device's browser, using your library card. Then select latest blockbuster eBook or Audio Book in your favorite category, and click Download! Voila, it should download and be available for you to enjoy in seconds! Although, having selected long Audio Book myself, I had to wait until I was in Wi-Fi zone to be able to download it. It works just like any other Library material, in that it will expire within 14 days (or whatever your library designated). No need to "return" anything to the library, it will just disappear off your device.
I started off with absolute classic 1984 by George Orwell, which I enjoyed even more than expected. Then, I continued onto modern fiasco tale in All The Devils Are Here – The Hidden History of the Financial Crisis.  Ironically this "other side of the coin" book seems most appropriate to me, and will undoubtedly stimulate my further exploration into alternative structures for society next.
Did I mention that OverDrive Media Console is Absolutely Free? I haven't checked on all platforms, but I can confirm that it is free on iPhone, Android and Windows. Enjoy!
PS: I read that some libraries offer Audio Books in WMA format – these won't play on iPhone (not sure about Android), but can be enjoyed on your Windows PC. Just glance at Audio Book format which should be listed on your library's Audio Book page, before the download.