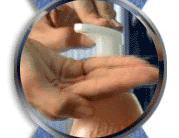 A friend, who shall remain nameless, has asked me if this was a "geeky" blog that she should stay away from due to it's inaccessibility to the normal folk, presumably.
What makes a blog Geeky? I probably won't post here the secrets of memory management optimizations in Java, or the intricacies of CPU Profilers. But, I will post about Codecs and other scary words like that.
Really, even when talking about complicated tech stuff, I do try to make it accessible by linking to explanation pages for "geeky" words like Codec. And I also think that these matters should be of interest to all people, since our entire world is becoming Digitized (or maybe it always was). But, I am also very comfortable if you choose to skip certain posts that you find of no interest.
Now, just to demonstrate how Geeky this blog really is, here is the main subject of today's post: Hand Soap.
 Seriously, I don't know if everyone has discovered it, since it's fairly new, but in our household we love Dial Complete Foaming hand wash. Yep, it comes Foaming right out of the dispenser, and this is not only grand fun for the kids (who finally Use soap), but very effective. The Antibacterial soap is clearly visible and easily reaches all over your hands, cleaning better, in my humble opinion, at least.
There! Super geeky post for you, enjoy (or skip, that is) 😀
Comments #
Comment by Albert Rabinovitz on 2007-08-26 17:16:29 -0500 #
Do they sell it in BJ's ?
Comment by Adi R on 2007-08-26 18:28:22 -0500 #
Actually they don't. I have been checking every month or so, and so far they haven't caught on with progress. They still sell regular old liquid soap.
Comment by Adi R on 2007-08-26 22:31:25 -0500 #
But, if you are asking where to get it, that's easy.
Both Walmart and Target have them, in various flavors.
Comment by Nameless Friend on 2007-08-27 09:48:42 -0500 #
duuhn, this was you opportunity to pimp out Dial and you gave away the source just like that!
I will to follow (this post was good training ground)and perhaps, I, too, will see the light of the future.
Comment by Boris on 2007-08-27 17:14:21 -0500 #
I won't be surprised to discover you are holding their shares 😉 .
Comment by Adi R on 2007-08-27 22:06:01 -0500 #
Ha Ha! That's a good one!
No, I don't have any of their stock.
In fact, I was a little concerned that they'd go after me for using their animated Gif for soap without permission, though I hope they will reconsider due to all this free promotion I am doing 🙂
Comment by Albert Rabinovitz on 2007-08-28 20:48:23 -0500 #
Which flavour of this soap do you and each of your family members prefer ?
Did it pass enough tests to be in every bathroom of your house ?
http://www.betterphoto.com/gallery/free/bio.asp?memberID=194156
Comment by Adi R on 2007-08-28 23:23:15 -0500 #
We have it in all bathrooms, yes. Works good, but I did notice that if you don't use it for a few weeks, it doesn't foam as good.
Comment by Adi R on 2007-08-28 23:23:48 -0500 #
PS: Thanks for promoting Inna's work, very nice gallery. Did she approve of your giving out that link?