Future is here folks, and it ain't cheap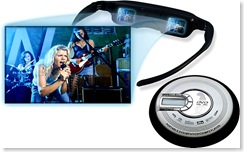 When this amazing gadget shows up in your run-of-the-mill neighborhood warehouse club, this truly takes it mainstream.
Meet ezGear ezVisionX4 Video iWear, courtesy of BJ's wholesale club. Yep, finally, all those science fiction movies we all saw as kids are coming true. TV and Movie theater, 60″ Widescreen, built into your eye-wear. With stereophonic sound, and iPod Video compatibility, of course!
I want one! But, alas, still too expensive for the non-necesity fun gadget that it really is. But, if you got the cash, head over to your local BJ's wholesale club and get one. Better yet, get two and send me one 🙂
I wonder how safe they are for every day use, especially while driving 😉
Comments #
Comment by Albert Rabinovitz on 2007-09-14 18:46:31 -0500 #
So, what is the price and when is your birthday, if at all ?
You were about to turn 35 or not yet ?
Comment by Adi R on 2007-09-14 20:41:38 -0500 #
The price is $299, you can click through directly to BJ's product page for this, by clicking on "this amazing gadget" link at the beginning of post.
And no, not turning 35 yet.