Free Disney movies on the web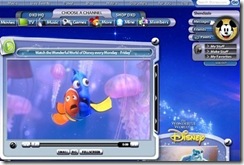 Now this is big news for all you parents out there! Free official Full Length Disney classics streaming on the Internet this summer.
I think this is a sign of things to come, and Disney are just running a fancy "beta" test this summer to test capacity and do some calculations of how much bandwidth per viewer, etc. Seriously, how far are we from every station out there putting up their entire shows/movies/etc archive on the Web, and making it advertiser supported, with perhaps Ads inserted every 15 minutes or so, as we are so used to now with traditional model.
Only one small difference! You choose When to Watch, and What to Watch, and of course feel free to Pause TV, and get back to that pesky Real Life.
[via EngadgetHD]