Beijing 2008 Olympics – Free in HD On-Demand
Entertainment
Olympics
Technology
Windows
Today we watched opening ceremony in HD on our big screen. A day late, but I prefer to watch things on my own schedule, even sporting events! The ceremony was Inspiring, especially in all the High Definition glory on the wall.
You will need specific setup, to bring the best quality available Olympic coverage to your Big Screen TV. First thing you'll need is Windows Vista Home Premium or Ultimate edition. Next, you will need an XBox 360 connected to home network, or you can skip this in case your Windows Vista PC is already hooked up directly to TV (it happens!).
Now, simply install TVTonic add-on on your Windows Vista MediaCenter PC, and start it. You can use it on your Windows Vista PC or naturally view it via XBox 360, using the Media Center extender functionality.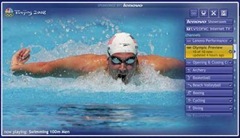 Actually, TVTonic brings a whole world of Internet TV to your local computer. It is actually similar to Miro and others, in that it simply pulls RSS feeds of Podcast style broadcast shows. It comes with pretty impressive guide with all kinds of Internet shows, including Dilbert, and GameTrailers in HD, both of which me and the kids enjoy tremendously!
Of course, you can always simply visit NBC Olympics site and watch highlights or even full events, steaming and online.
I am very pleased with this progress! The TVTonic client is completely free and brings home very high quality video, for convenient viewing on the Big-Screen TV. We have configured it to download specific sports, like soccer and fencing, automatically as they become available!
If you have Vista 64 Bit edition (very rare still), they are promising to make it available soon (via EngadgetHD).